Clean. Drain. Dry. Dispose.
When it comes to aquatic invasive species, prevention is key. The Washington Invasive Species Council has partnered with the Washington Department of Fish and Wildlife to pilot four CD3 units aimed at reducing the spread of aquatic invasive species within our state.
Of the four units, three are stationary fixtures to be installed next to the waterbody they are helping to contain. Ideally, when a boater is exiting the waterbody, they will be able to utilize the tools (for FREE) in the CD3 unit to remove any potential invasive species from their vessel, thus preventing the spread to additional areas.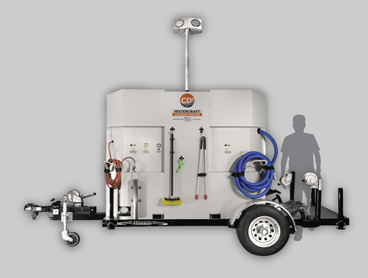 One of the units is a mobile trailer that can be moved around the state for large events. If you are interested in having a CD3 unit at your event—whether it's a fishing derby, lake fair, etc.—please fill out the request form below.
Allow for a month lead time to help us in fielding requests, and scheduling for events. Watch this introduction video to learn more about the CD3 units and how they can prevent the spread of invasive species.
FAQ's:
Q: What kinds of boats/vessels can use the CD3 units?
A: In short, all of them! Motorized boats, non-motorized boats, pontoon boats, stand-up paddle boards, flotation devices, coolers, etc. Anything that enters a waterbody may utilize the tools/attachments of the CD3 unit.
Q: How much is it to use the CD3 unit?
A: Nothing, it's free!
Q: Do I need special training to use the units?
A: Nope! The systems are designed to be intuitive. If you want to learn more there is an operations manual that details the various tools for use on the equipment.
Q: Am I required to use the CD3 unit after leaving the waterbody?
A: While no one will be required to use the CD3 units, we do highly recommend taking advantage of this equipment where it is available as it is illegal to transport any organic material. As this is a pilot program, the more feedback from users we can gather, the better we can maintain the equipment, understand needs, and improve upon the program as a whole.
Q: Do I need to fill out any paperwork to use the mobile unit?
A: Yes! There will be a MOU (memorandum of understanding) contract that will need to be filled out and signed before the unit can be loaned.
---