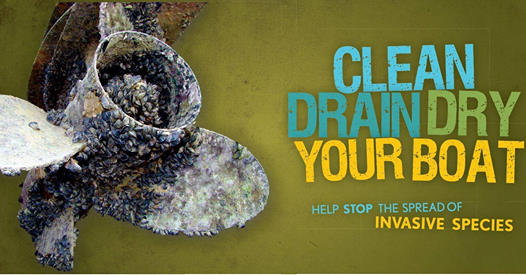 The best way to keep our lakes and rivers clean and free from invasive species is to clean, drain, and dry your boats and equipment.
Aquatic invasive species are non-native animals, plants, microorganisms, and pathogens that out-compete or prey on Washington's native fish and other wildlife.
They come to Washington from other states and provinces on trailers, boat hulls, motors, wading boots, fishing equipment, and in many other ways. Once they become established in one lake or river, they easily can spread to more waters in Washington.
They can harm the environment, hinder salmon recovery efforts, and damage human health and businesses. Researchers estimate that invasive zebra and quagga mussels alone could cost the power industry more than $3 billion, and industries, businesses, and communities more than $5 billion nationwide in 6 years.
To Protect Washington State Waters, Follow These Steps:
Clean
When leaving the water, clean all equipment that touched the water by removing all visible plants, algae, animals, and mud. Equipment includes watercraft hulls, trailers, shoes, waders, life vests, engines, and other gear.
Drain
Drain any accumulated water from boats or gear, including the bilge and live and transom wells, before leaving the water access point.
Dry
Once home, fully dry all gear before using it in a different waterbody.
If you think your boat might be carrying invasive species, call the Department of Fish and Wildlife's aquatic invasive species hotline (1-888-WDFW-AIS) and let the department know where you used the boat. If needed, the department can inspect your boat and possibly decontaminate it at little or no cost.
It is illegal to transport or spread aquatic invasive species and violators may face a maximum penalty of 1 year in jail and $5,000 in fines.
Mandatory Boat Inspections
To combat the threat, the Washington Department of Fish and Wildlife is ramping up mandatory inspection stations at our borders and high-risk water bodies to make sure that infested watercraft don't slip into Washington.
Mandatory Prevention Permit for Out-of-Staters
In addition to the inspection stations, people from out-of-state need to buy Washington Department of Fish and Wildlife Aquatic Invasive Species Prevention Permits before using their boats and other watercraft on Washington State waters. New this year, the permits may be purchased online. The prevention permit also is required by seaplane operators and commercial transporters of vessels.
Resources