If you are transporting a boat to Washington, Oregon, Idaho, or Montana, Call Before You Haul to avoid costly delays and the spread of aquatic invasives species. One free call notifies all four-western states and provides you with services needed to inspect your cargo.
Toll-free: 1-844-311-4873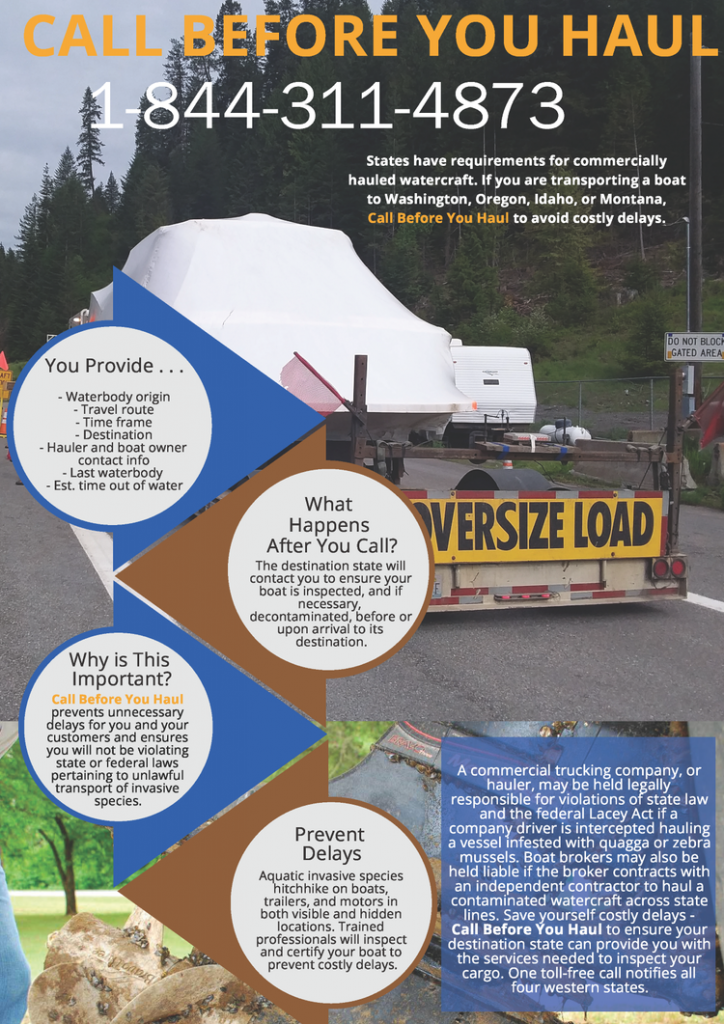 Why Is This Important?
| | | |
| --- | --- | --- |
| Prevent the Spread | Prevent Delays | It's the Law |
| Invasive species can be carried in bilge water, live wells, and bait buckets as well as on boat and motor exteriors and trailers. Every time a boat is transported overland after use in an infested waterway, there is the possibility that it will transfer aquatic invasive species to uninfested waterways. | Trained professionals will inspect and certify your boat to prevent costly delays. | The driver may be held legally responsible for violations of state law and the federal Lacey Act if hauling a vessel infected with quagga or zebra mussels. Boat brokers also may be held liable if the broker contracts with independent contractors to haul contaminated watercraft. |
What You Provide
Waterbody origin
Travel route
Time frame
Destination
Contact information
Last waterbody
Estimated time out of water
What Happens After You Call
After the caller provides information about the source and destination of the watercraft, the four Columbia River basin states (as well as Canada and British Columbia) are notified that the watercraft is being shipped. The hauler will be contacted for additional information or to make arrangements for the watercraft to be inspected and decontaminated (if applicable). As part of the Call Before You Haul program, information is provided to each state to upload to its commercial hauler and overweight/oversize Web site and permit application system, which watercraft haulers will see when requesting transportation permits.
Overland movement of watercraft attributes to much of the ongoing spread of aquatic invasive species to inland waters throughout North America. To learn more, visit the resources listed below.
Additional Resources
Clean, Drain, Dry | Washington Invasives Species Council
Best Practices to Comply with State Laws and Prevent Spreading Invasive Species
Watercraft Best Practices and Dry Time Estimator | westernais
Preventing the spread of invasive species | Washington Department of Fish and Wildlife