Give Invasive Species the Brush Off
Some invasive species produce huge amounts of seeds that may remain viable in the ground for a long time. These seeds may be carried by horses, all-terrain vehicles, cars, hikers, and other trail users to new locations and then settle there. Help protect our natural areas⁠—be sure to clean off your gear before you come and when you go.
By following these easy steps, together, we can stop the spread of invasive species:
• REMOVE plants, animals, and mud from boots, gear, pets, and vehicle.
• CLEAN your gear before entering and leaving the recreation site.
• STAY on designated roads and trails.
• USE CERTIFIED or local firewood and hay.
Play, Clean, Go Trailhead Sign and Boot Brush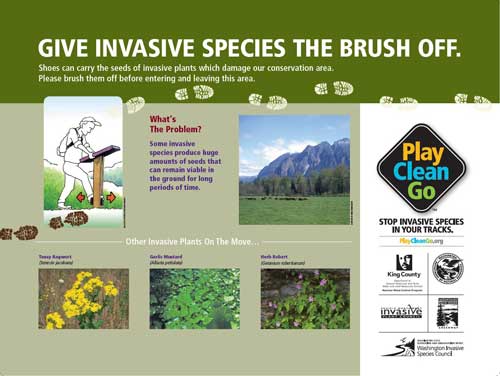 If you're heading outdoors in the greater Seattle area, you might see signs that educate visitors about Play, Clean, Go.
The council, in partnership with King County, Mountains to Sound Greenway Trust, Pacific Northwest Invasive Plant Council, and Washington Department of Natural Resources developed a trailhead sign and boot brush, which is installed at two Natural Resource Conservation Areas in King County.
Developing prevention and decontamination procedures for agency field work has been an ongoing initiative for the council and its members, this campaign is helping to share that message with the general public.
PlayCleanGo is sponsored by the State of Minnesota and U.S. Forest Service.